Regina Scheer wins Leipzig Book Fair Prize 2023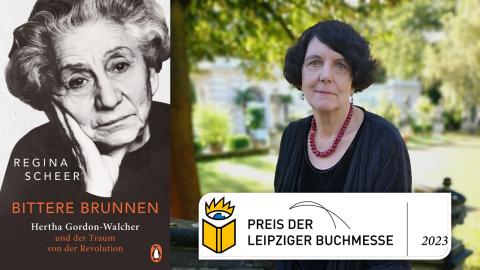 Our author Regina Scheer receives this year's Leipzig Book Fair Prize in the non-fiction category for "Bitter Wells", her documentary biography about the life of the Jewish communist Hertha Gordon-Walcher.
The seven-member jury chose the work from 465 submissions at yesterday's award ceremony at the Leipzig Book Fair. The prize is also awarded in the categories fiction and translation and is endowed with a total of 60,000 euros.
From the jury's statement:
"In 'Bitter Wells', Regina Scheer traces the extraordinary and exemplary life of Hertha Gordon-Walcher and at the same time chronicles the socialist and feminist movements in the 20th century. 'Bitter Wells" goes far beyond an ordinary biography: the author masterfully and transparently interweaves historical research with personal memories. […] This narrative non-fiction book stands for great openness in dealing with breaks, inconsistencies and gaps in our knowledge of life histories - and is a precise documentation of political contexts whose traces shape the present."